Alpine Fishing Adventures is rated the best guide service on Lake Dillon and offers  fully guided ICE FISHING TRIPS, PONTOON FISHING CHARTERS, and FLY FISHING TRIPS on scenic Dillon Reservoir near Breckenridge, Keystone, Frisco, Silverthorne, and Vail, Colorado.
While on a fishing trip at Dillon Reservoir you can relax and take in some of the best mountain views around.
Our ice fishing trips and pontoon boat charters can accommodate families with young children, parties and groups, and those with special needs. KIDS 10 AND UNDER FISH FREE! We offer the best price/value on Lake Dillon with our 3 hour or 4 hour trips! We also provide fishing charters and fishing trips for the serious and accomplished fisherman with our  6 hour Black Diamond trip options.
Read the Summit Daily News Article about predictions that big fish are getting bigger.
Our waters are loaded with Kokanee Salmon, Arctic Char, Brown Trout, and Rainbow Trout. You can try your luck with Salmon and Rainbows to take home for dinner, or catch and release our unique Arctic Char and trophy Brown Trout.
What Sets us Apart?
The dream to start AFA started 40 years ago when Randy Ford (founder/owner) had caught his first Lake Dillon brown trout.  As a 4th generation Coloradan, his passion for the alpine lakes of Colorado has only increased as he gets to share it with his guides and clients!  Knowledge of this level allows us as a team to produce top notch quality trips-catching the biggest fish and setting Colorado state records!
About Lake Dillon
Dillon Reservoir, often known as Lake Dillon, is a huge freshwater reservoir in Summit County, Colorado, United States. Lake Dillon was formed when the Dillon Reservoir Dam was built in 1963 to provide storage for Denver's water supply. The old town of Dillon would be flooded and many of the buildings were moved to the current towns of Dillon and Silverthorne. It took a few years for the reservoir to fill up and by the mid-seventies Lake Dillon became one of Colorado's premier Brown trout fisheries. Lake Dillon is a great place to go fishing in the summer or winter. Brown Trout, Rainbow Trout, Kokanee Salmon, and Arctic Char can all be found in the lake.
It is bordered by the cities of Frisco, Silverthorne, and Dillon and is located south of I-70. It is a reservoir for the city of Denver, with Denver Water in charge of its waters. Copper Mountain, Keystone, Arapahoe Basin, and Breckenridge are within a short drive from the reservoir.
COLORADO STATE RECORD ARCTIC CHAR!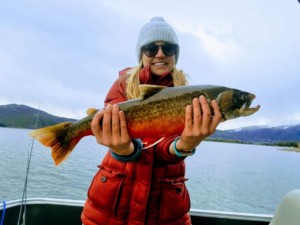 Dr. Lindsay Regali caught the new Colorado state record fish during a guided fishing excursion with Alpine Fishing Adventures in November 2017.  This arctic char measured 23.5 inches and weighed 4.15 pounds.
Lake Dillon is one of the only places in the lower 48 states that is home to the arctic char and is a cold-water fish in the family Salmonidae (closely related to both trout and salmon), native to alpine lakes and arctic and subarctic coastal waters.
Check out some of the arctic char our clients are getting into on Alpine Fishing Adventures' guided excursions.